25 How to distinguish between Enterprise Devices and Consumer Devices¶
| Enterprise Devices | Consumer Devices |
| --- | --- |
| Pico Neo 3 Pro | Pico Neo 3 |
| Pico Neo 3 Pro Eye | Pico G2 4KS |
| Pico G2 4K | Pico Neo 2 Lite |
| Pico G2 4K Plus |   |
| Pico G2 4K E |   |
| Pico Neo 2 |   |
| Pico Neo 2 Pro |   |
| Pico Neo 2 Pro Eye |   |
Enterprise Devices
On top of all features of the Consumer Devices, the Enterprise Devices support the additional customization features as below:
Customize the boot up and shutdown animation
Configurate the key function
Install and set the Launcher
Use the system-related interfaces in the SDK (for example, silent installation and uninstallation, etc.)
Install and use Pico enterprise customizable products (Broadcasting Solution, Live Streaming Assistant, Application Installation Assistant, etc.)
Install the customized system (ROM)
Note: The applications installed in the Enterprise devices are displayed in the "All" list (Figure 25.1).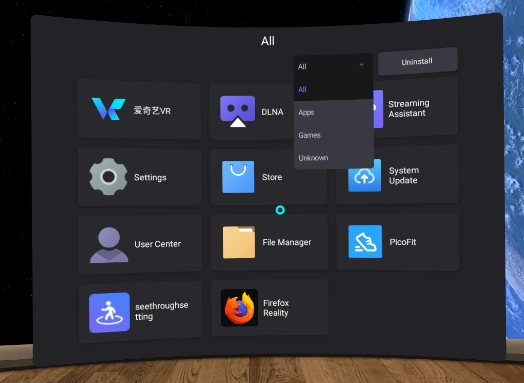 Figure 25.1
Consumer Devices
None of the enterprise customization features mentioned in 25.1 are supported.
Note: If the developer is developing and debugging on the consumer devices, the installed application will be displayed in "Unknown" (Figure 25.2).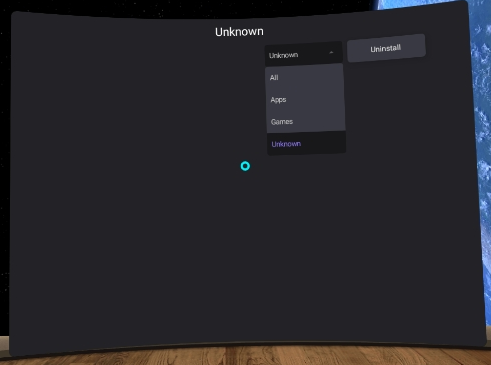 Figure 25.2