3 Development Notes¶
3.2 Recommended SDK configuration¶
For Graphics APIs, currently Vulkan is not supported, and OpenGLES2 and OpenGLES3 can be added base on developers' needs.
For multithreaded rendering, please refer to Unity's official documentation at https://docs.unity3d.com/ScriptReference/SystemInfo-graphicsMultiThreaded.html.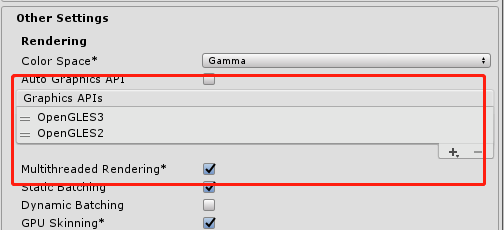 Fig 3.1 Rendering setting
Detection for V Sync Count is needed. Go to Edit > Project Settings > Quality, check Medium under Levels and make sure that Don't Sync (required) is selected for V Sync Count under Other: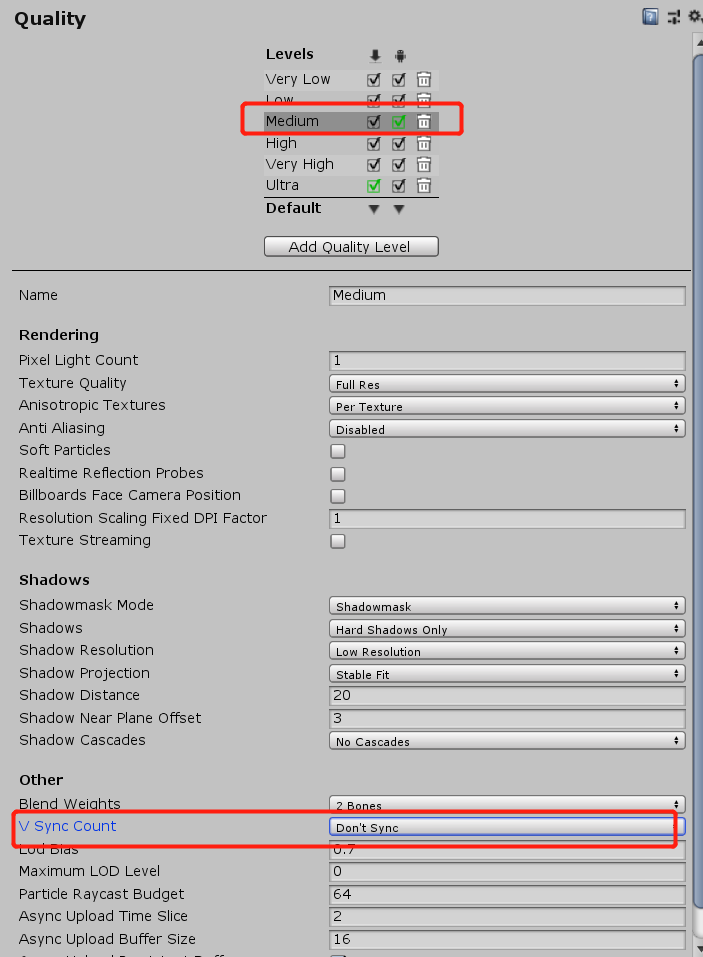 Fig 3.2 Detect V Sync Count
3.3 Unity XR API Support¶
This chapter describes updates of support for Unity XR API on version basis.
Version 1.2.2 added following supports:
Added support for acquiring velocity and angular velocity of head node (XRNode.Head).
Added support for acquiring velocity, acceleration, and angular velocity of controller nodes (XRNode.LeftHand/XRNode.RightHand).
Added support for UnityXR controller haptic interface (InputDevice.SendHapticImpulse).
Added support for configuring eyeTexture value dynamically using XRSettings.eyeTextureResolutionScale.
3.4 Known issue¶
When Unity Stencil Buffer is used in conjunction with Linear Space, there is a black screen problem on Neo 3.
When using the Scene Quick Preview Tool, if the compiler report error :"BeginLayoutGroup must be called first".This is a known issue and should not affect regular usage.